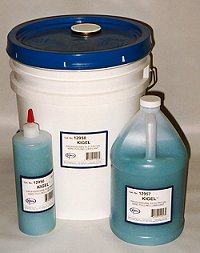 Features and benefits:
Non-corrosive on Aluminum, Copper, PVC, FRE, or Galvanized Steel Conduit.
Dries to a non-toxic lubricating powder.
Great for high stress electrical and communications cable pulling operations.
Environmentally safe, 100% Non-Toxic.
Compatible with Rubber, Neoprene, PVC, High Density or Cross Linked Polyethylene, Low Density Polyethylene, Nylon, Semi Conducting Jacket, and Hypalon.
Excellent for datacom and retrofitting applications.
Friendly to the skin.
Cleans up fast with water.
Other multi-purpose lubricant uses.
Biodegradable.